Proceeds from Quilt Raffle Go Towards Building Fund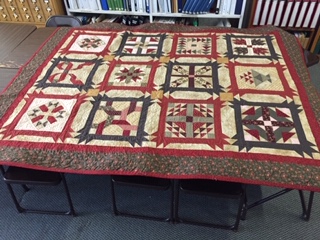 A quilt was made and donated by Clay County Genealogical Society member, Teresa Mollenkopf. The quilt measures 89″ by 72 1/2″. The name of the quilt is Bear's Paw; each of the 12 designs are enclosed in a Bear's Paw design. The 12 designs include: Country Crossings, Deco Basket, Ribbon Bow, Winged Star, Night and Noon Star, Doves at the Crossroad, Geese Goin' Round, Lemon Twist, Hardy Boys, Friendship Starling, and Kissing Cousins.
The material looks antique and is in fall colors. The quilt is on display at the library now and will be on display at the Clay City Sesquicentennial July 8th in front of Grandma's on Main Street. It will also be on display at the CCGS Pancake Breakfast on July 22 at the Center Point Methodist Church Family Center from 7 a.m. to 11 a.m.
The cost of the raffle tickets is 1 for $10.00 or 3 for $20. The winning ticket will be drawn at the monthly CCGS meeting on September 19th at 1:00 unless the reserve price for the quilt has not been attained by the 19th. A later drawing date will be announced if it does not occur on the 19th.
To obtain raffle tickets visit the library in Center Point on Mondays or Wednesdays from 10 a.m. to 4 p.m. or call the library (812-835-5005) to make other arrangements. Tickets may also be purchased at Grandma's on July 8th, the pancake breakfast on July 22nd, or at the Chicken & Noodle Dinner at the Saline Labor Day Picnic on September 3rd.