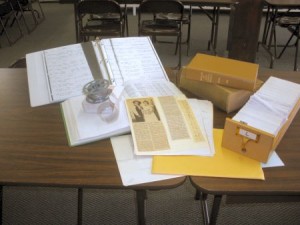 Our Library has a very extensive list of books and records concerning Clay County ancestors and its  history. Some of the records we have are unique and can only be found here. New materials are constantly being added to the list. A sample list of our holdings includes:
Books – We have over 2000 books on our shelves for research; most of which are related to genealogy or local area history. Numerous other books from other regions and states are also available.
Family Histories – We have over 150 family histories that have been compiled and donated to the Society for research.
Microfilm – We have a very extensive list of Census records and county wide newspapers on microfilm. A microfilm reader/printer is on site for use by visitors.
Cemetery Records – Members of the Society copied all the known tombstones in the cemeteries in Clay County in the 1980s.  Volunteers are gradually updating the original records which are in binders and arranged according to township. Larger cemeteries have their own binders. There is also a master index for the cemeteries. We also have cemetery books for sale.
Family Name Files – There are over 6000 family name files with newspaper clippings, birth and death records, marriage information as well as information about other people researching the same family. The files also contain information on school, organizations and churches.
Funeral Home Files – Local funeral homes have given our Society access to some of their historical records. The information that we are allowed to release to the public has been copied onto file cards and arranged in alphabetical order by the name of the deceased. It is kept current by adding the same types of information from current newspaper obituaries.
Old Newspaper Clippings – Obituaries and assorted clippings have been gleaned from old Clay County newspapers. Many of the clippings are from the 1800's and available for research.
Historical Newspaper Index – Beginning in 1998 The Brazil Times newspaper clippings were no longer regularly added to the Family Files. Instead, we have an ongoing project to index the vital records from the local newspapers. Indexes are available as they are completed.
Census Records – Records we have:
1870 Census – Hand copied from the original census, not readily available any where else.
1830, 1850, '60, '70, '80, 1900, & 1930 Indiana Census book and indexes
Indiana 1840 & 1860 Federal Census Microfiche
Kentucky Censuses 1790, 1800, '10, '20, '30, '50 (books)
Parke County 1870 Census (book)
Vigo County Census 1840, '50, '60 Census (book)
Greene Co.unty1850 Census (book)
The WPA Records – WPA records were created between 1935 and 1943, when the federal government created the Works Projects Administration to provide work for thousands of unemployed Americans who were struggling to survive the depression of the 1930's. We have birth, marriage, death, and naturalization records for your use.
The Clay County Researcher – The Clay County Researcher is the Society's quarterly newsletter. All back issues are available for purchase and contain a wealth of information.
Indiana County Histories -Recent additions to the Library include all of the available Indiana county histories, on loan from the ___ Family.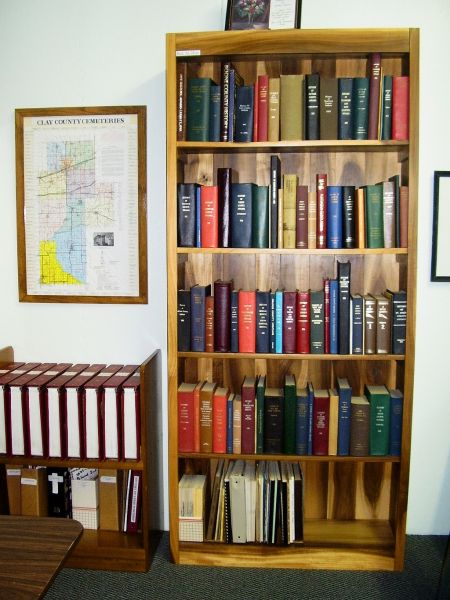 Clay County Sheriffs' Docket Books – are now available for research.  Volunteers have begun indexing them.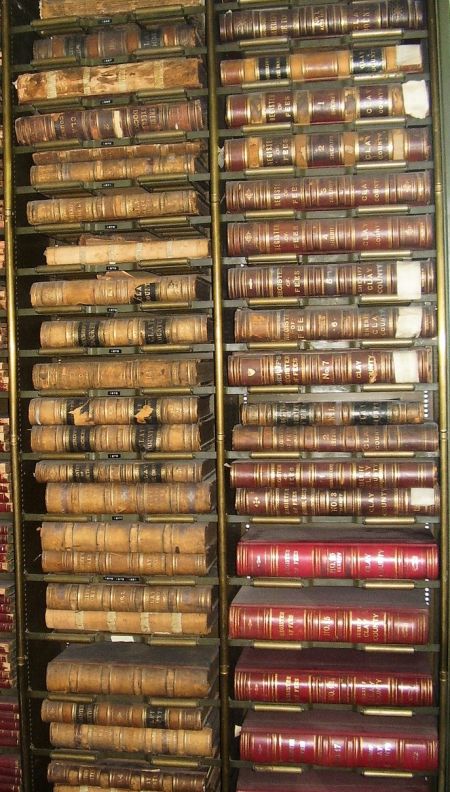 We also have published Clay County Histories, Clay County Cemetery Books, and other genealogical books and supplies for sale. Check the Publications Page for more information on what is available now.