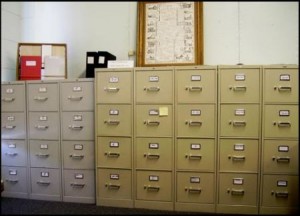 We have over 6000 family name files with newspaper clippings, birth and death records, marriage information as well as information about other people researching the same family. The files also contain information on schools, organizations and churches. These files are continually updated as new information becomes available.
The files contain actual newspaper clippings as well as abstracts of newspaper articles of genealogical interest. Some files may only contain a single sheet, other files may be from 2 to 6 envelopes that are stuffed full.
We will not copy entire files, but if you will give us a specific name and approximate dates we can search for any information on that family line. You can contact the Library for any requests. If we find any pertinent information we will advise you by email as to contents and cost. Our charge for this is the same as our research fees.
You can download a 20 page list of the Family Names in our files recently updated in January 2019 by clicking here.